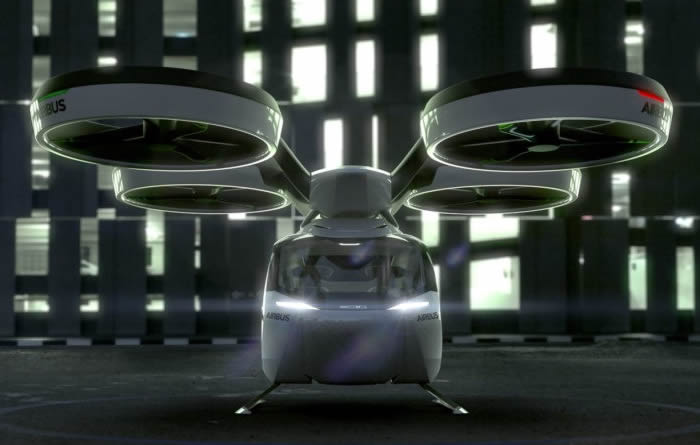 It might sound like the stuff of science fiction, but according to media reports this week we could very well be seeing VTOL (Vertical Take-Off & Landing) passenger aircraft operating in global cities by the end of the decade.

These futuristic flying machines may have their detractors, but the very fact that we are expecting to see them 'coming to a rooftop near you' soon, speaks volumes about the incredible technological changes on our near horizon.
VTOL; Urban Air Mobility
Although used to describe any hover, take-off and land vertically, the Urban Air Mobility craft currently being developed are designed to move passengers around cities from rooftop to rooftop.
Essentially they hop from skyscraper to skyscraper and have the potential to cut commuting time from significantly from rural locations to the city.
European aerospace giant Airbus has been working on a multi passenger version, called CityAirbus, and expects to have a demonstrator ready by 2018.
These electric aircraft have the potential to revolutionise how we commute to work; and with such strong business potential it is no surprise that Airbus is reported to be investing a very large budget in realising its potential.
Will they really work?
It's safe to say that there is still some scepticism in the industry. However, when you look at the amount of money and energy being pumped in to the project, you have to assume that the odds of success are high.
Speaking to Aviation Week, Urban Air Mobility's General Manager Mathias Thomsen, says:
"This is a new area for us, but leverages everything we do across our divisions: vertical flight, autonomy and passenger transport… focus has accelerated in intensity in the last six months."
Perhaps most controversially, the CityAirbus is intended to be self-piloting in the longer term. It will use much of the technology coming from the self-driving road vehicles currently under development in the US.
However, getting pilotless quadcopters to operate in densely populated urban areas must surely be a tall ask as politicians weigh up whether to give these machines the freedom of our city skies?
Expect much talk and deliberation in the media as we get nearer the time.
Where can I see one in action?
Right now they are very much in the development stages. However, visitors to last month's Geneva Motor Show were treated to a modular ground/air concept vehicle called Pop.Up. It was put together by Airbus in partnership with an automotive design house called Italdesign.
In light of this we would expect to start seeing new versions of VTOL aircraft appearing at aerospace and aviation shows across the world over the next couple of years.
Watch this space.
The JP Aero view
We've been at the forefront of the aerospace supply chain since the 1950s. Back then the concept of taking your family on a jet powered aeroplane for a foreign holiday was the stuff of Hollywood for most.
Today we all jump on and off flights for everything from a business trip to a quick weekend away. Many of us expect to pay less for our ticket than the cost of getting to and from the airport.
So the idea of quadcopters taking off from London's tallest buildings really doesn't seem like a very far step from where we are today.
One thing that is for certain is that the technological advancements on the horizon are at their most exciting for the last 50 years and we are thrilled to play our part in it.
————
We have been manufacturing and supplying aerospace fasteners since the 1950s.If you would like to find out more about some of the specialist services we offer across these sectors, including aviation, defence, oil & gas and space exploration, call us today on +44 (0)208 504 8833 or send us a direct message.
And hey, if you found this blog useful or informative in any way we would really appreciate it if you returned the favour and shared it on some of your social networks. Just hit one of the buttons below!