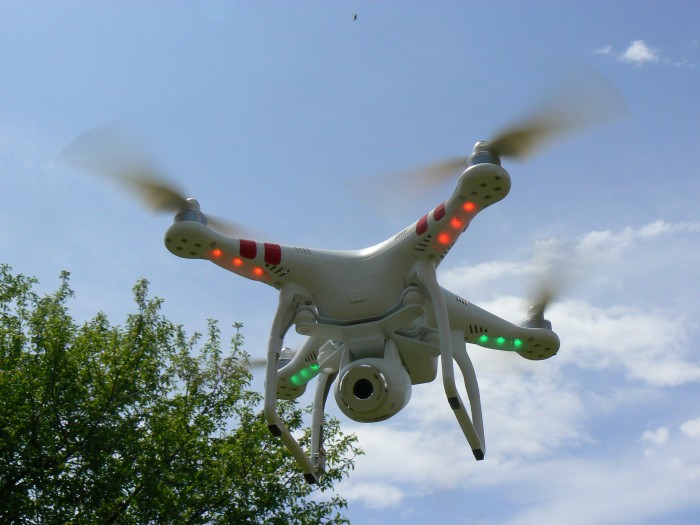 Drones may have been one of the more interesting developments in technology recently, but they are a real cause of concern for the aviation sector.
The new micro-flight robots have been embraced as revolutionary by some, especially big-businesses.
Just this month JD.Com, the second largest e-commerce company in China, announced plans to base its entire logistics on drones.
The company is excited about how they can be used to deliver stuff that no one ever realised they needed, to hard-to-get-to rural villagers; opening whole new markets to the delights of internet shopping.
Closer to home we can soon expect the technology to be deployed by the UK police.
Amazon has patented a shoulder mounted drone that can be deployed by officers in pursuit of a suspect.
Although, quite what the British public will make of having these 'bobby-drones' buzzing over their cherished back gardens is another matter.
But whatever your think about internet shopping or the sacred privacy of one's petunia patch, one thing we can all agree on is the need to prevent drones from becoming a danger to the aviation industry.
The aviation industry responds
This was highlighted by the International Air Transport Association's (IATA) Director General and CEO, Alexandre de Juniac, this month.
Speaking at the Safety and Flight Operations Conference in Seoul, Republic of Korea, he said:
"The great majority of drone owners operate their devices responsibly, but it is also the case that the number of incidents is rising."
These potential dangers – caused by irresponsible drone pilots – were first highlighted in this report by BBC News:
Since then, however, it seems that the number of incidents have been steadily on the rise, prompting de Juniac to call for an industry-wide approach.
"There is significant work being developed at ICAO to produce standards for the larger drones that are equipped to share the airspace with manned aircraft.

However, we need to ensure that the smaller drones, whether intended for recreational or commercial use, are kept out of airspace used for approach and landing operations of air transport."
In 2016, there were a reported 70 near misses by drones at Heathrow Airport, a shocking number.
One of the most serious incidents involved the pilot of an A320 passenger plane who saw a drone flying just under their right wing at 10,000 feet as they were preparing to land. This is 9,600 feet higher than the legal altitude for drones in the UK.
Investigators later said:
"…providence had played a major part in the aircraft not colliding [with the drone]."
In another serious incident, a pilot taking off from Heathrow spotted a drone around 150 feet away from his plane's wing at 3,000 feet in the air.
Again, authorities believed a serious collision was only narrowly avoided.
According to de Juniac, more needs to be done at an international level to prevent such incidents from happening again:
"A framework of data, dialogue among all stakeholders and global standards will help to ensure that we are able to take advantage of the great opportunities presented by drones, with no degradation in system safety or efficiency."
Drone owners beware. The actions of a small handful of you could be about to introduce a whole layer of red tape to your otherwise innocent pursuit.
Image: Peter Linehan
————
We have been manufacturing and supplying aerospace fasteners since the 1950s.If you would like to find out more about some of the specialist services we offer across these sectors, including aviation, defence, oil & gas and space exploration, call us today on +44 (0)208 504 8833 or send us a direct message.
And hey, if you found this blog useful or informative in any way we would really appreciate it if you returned the favour and shared it on some of your social networks. Just hit one of the buttons below!