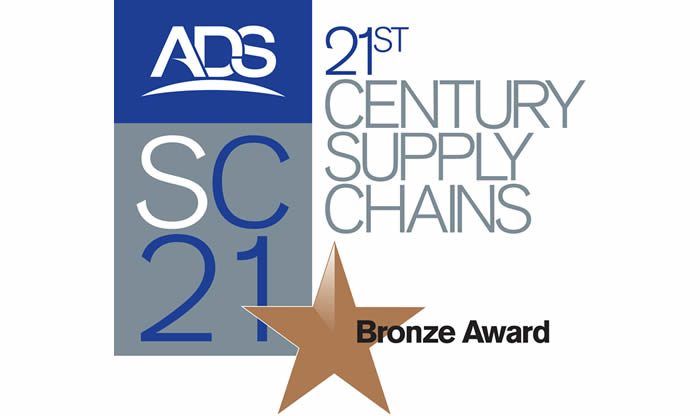 We are very pleased to announce that we have been given a SC21 Industry Bronze Award for our recent achievements in the SC21 programme.
The SC21 change programme is the nationally recognised standard by which all leading manufacturers and suppliers of aerospace and industrial fasteners are measured and recognised.
Thanks to a great team effort, we will be presented with the award at the SC21 Task Force Event on the 18th and 19th November in Bristol with the support of Airbus, GKN and WEAF.
We would like to say a big thank you to all our staff, suppliers and customers who have helped us to reach this important industry milestone.
Why does the SC21 Bronze Award matter?
Our customers need to know that we are working hard to deliver the best possible standards. Despite being a long-standing organisation stretching back to 1958, and the infancy of commercial aviation, we aim to always deliver an innovative world-class service that refuses to rest on its laurels.
SC21 was founded in 2006 the Society of British Aerospace Companies (SBAC). Its members came together during the Farnborough International Airshow and, backed by HM Government, agreed to a single strategic programme to improve performance across the UK aerospace industry.
It is vital for our customers to be given the sense of confidence that comes from knowing that they are working with a company that adheres to the very highest industry standards, whether we are working across commercial aviation, defence, space exploration, oil & gas, nuclear, medical, petrochemical, microelectronics, marine or rail.
If you are currently looking for new partners in these fields and wish to know more about SC21 and what it guarantees about UK suppliers, please take a moment to watch this video by ADS Group Ltd:
How do you earn an SC21 Bronze Award?
As a signatory to SC21 we have signed up to a formal process where we are measured on our contribution and commitment to our supply chain. With over 35,000 product lines, not including our vintage and bespoke aerospace fastener services, this is no mean feat.
In order to gain this recognition we had to achieve and maintain an agreed criterion for delivery, quality, sustainable improvement and the associated improvement frameworks in terms of business and manufacturing excellence.
Partners and potential customers can use our SC21 Bronze Award as a barometer of our success in delivering high quality, reliable and competitive services as a leading fastener supplier for the full spectrum of industrial and aviation related industries.
To find out more about SC21 visit their website. If you would like to know more about how being an SC21 Award Winner makes us ideally suited to work with your business, speak to our Director, Tim Ward, by calling +44 (0)208 504 8833