We mentioned in a previous blog that we currently have a Bronze Award as part of our commitment to the SC21 change programme. This is the nationally recognised standard by which all leading manufacturers and suppliers of aerospace fasteners and industrial fasteners are measured and recognised.

We continue to be fully committed to the SC21 process and are working hard towards the ambitious target of gaining our SC21 Silver award status by 2019.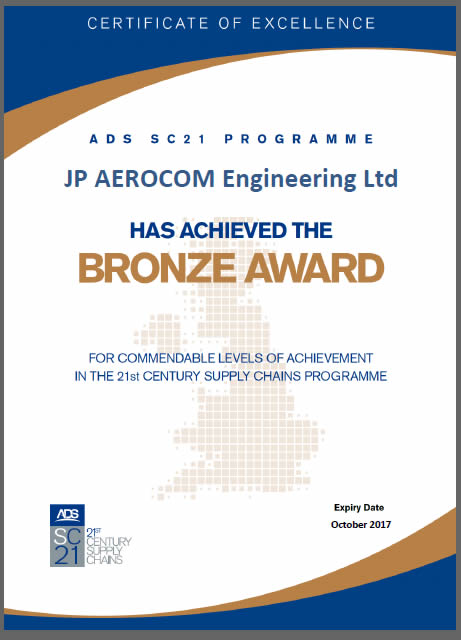 You can keep up to date with our progress over on the SC21 Updates section of our website where we look forward to announcing new milestones.
SC21 is hugely important to the aerospace industry as it provides the industry with a single strategic programme to improve performance.
Our customers need to know that we go to all lengths to adhere to the very best possible quality and safety standards. As an organisation we have been in operation since 1958, back when commercial aviation was in its infancy, and we have survived by committing to being the very best that we can be.
Founded ten years ago by SBAC (Society of British Aerospace Companies), SC21 is backed by HM Government and proved a universal strategic programme to improve performance throughout the British aerospace sector.
We believe that being part of the SC21 programme gives our customers the reassurance that we are an organisation committed to the very highest standards and can be trusted to supply only the very highest quality fasteners across our core sectors such as aviation, defence, space exploration, oil & gas, nuclear, medical, petrochemical, microelectronics, marine or rail.
If you are currently looking for new partners in these fields and would like to know more about SC21 and what it can guarantee from UK suppliers, please take a moment to watch this video:
Our Bronze Certificate proudly shows our achievement so far on this programme and as we aim to achieve silver level by 2019 we are hopeful that our new and existing customers can feel safe and secure, knowing that they are working in partnership with a long established and trusted supplier of the very best quality Mission Critical Fasteners.