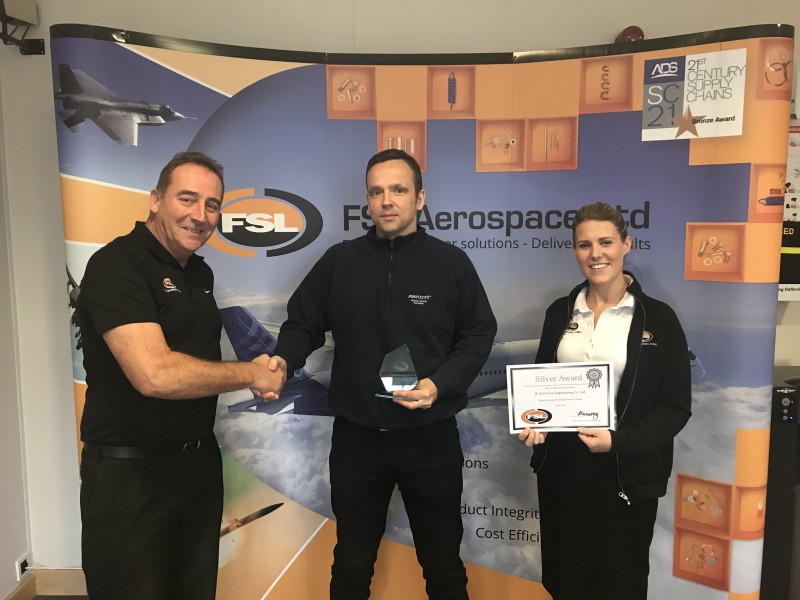 We are delighted to have been awarded a silver certificate and trophy by one our long-standing clients FSL Aerospace Ltd. for our work in 2017.
FSLA is a world-class supplier of aerospace fasteners, fixings and components who have been working with the aerospace and defence industries since forming in 1985.
We have a great long-term businesses relationship with FSLA and have been a trusted supplier of theirs for 15 years. The award recognises how our support, products and overall quality of service has helped them to become a world class supplier of aerospace fasteners.
We supply aerospace fasteners across the industry to many leading organisations in defence, commercial aviation and space exploration.
In fact, working with great partners like FSLA has been an important cornerstone of our businesses since we began back in 1955, when mass commercial aviation was still in its infancy.
If you would like to find out more about some of the more unique aerospace fastener services we provide, please click on one of the following topics
Aerospace fasteners
All leading brands of aerospace fasteners supplied and members of the ADS SC21 Supply Chain programme.
As well as stocking leading brands such as Aerotight, Philidas and Kaynar we also manufacture our own, including bespoke and historic fasteners.
Industrial fasteners
Our industrial fasteners are supplied to some of the most demanding industries on the planet, including Marine, Oil & Gas, Defence, Medical and Nuclear.
Branded fasteners
We carry over 35,000 lines and hold a vast amount of stock, including all leading branded fasteners. Our brands include Aerotight, Philidas, Kaynar, Unbrako, Holo-Krome, Spirol, Tucker, Monadnock and PSM.
Space industry fasteners
As the UK's No1 supplier of fasteners to the rapidly growing space industry we are AS9120 REV A & ISO9001:2008 approved and fully SC21 compliant.
—–
You can find out more about us by browsing this website and reading about all of the many things we do to remain one of the UK's leading manufacturers and suppliers of fasteners.
Alternatively, if you would like to give us a call to talk about your fastener requirements we have more than 50 years' experience in this industry and a wealth of knowledge and skills to share.
To find out more about JP Aero and how we play a leading role in the aerospace supply chain with our range of aerospace, industrial, vintage and historic and bespoke fasteners contact us today on +44 (0)208 504 8833 or get in touch via email: sales@jpaerocom.co.uk.