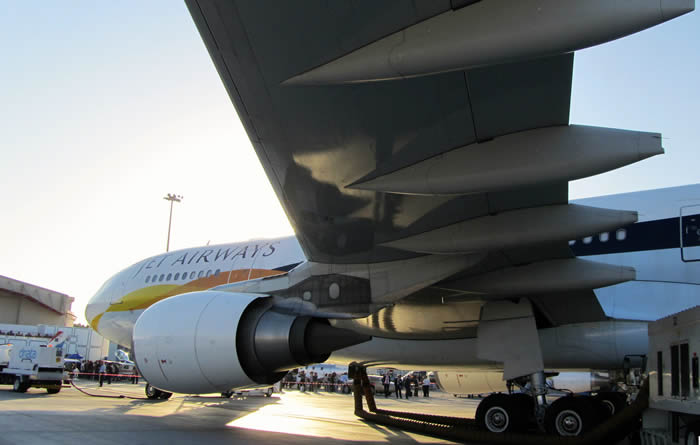 Aircraft fasteners are the unsung heroes of aviation design. In a world where only the very highest quality workmanship will do, these tiny nuts, bolts and screws are some of the toughest, lightest and best performing pieces of micro-engineering on the plant.
There are tens of thousands of these tiny items holding the average passenger jet together.
They might not be as exciting as a pair of twin jet engines, but the safety of millions of people each day depend on their correct selection and usage.
Aircraft (aerospace) vs Commercial grade fasteners
Aircraft fasteners are very different to commercial grade fasteners and the two should never be confused.
Although the average commercial grade fasteners used in manufacturing are high-performance pieces of kit in themselves, the two simply don't compare.
If we just take aircraft bolts as an example; these are made from corrosion resistant steel and are heat treated to exceed a tensile strength of 125,000 psi.
Commercial grade fasteners, by contrast, are made using low carbon steel. They bend easily and have very little corrosion protection.
Their tensile strength is measured somewhere between 50,000 – 60,000 psi.
To give you an idea of the kinds of strength we are talking about, normal atmospheric pressure at sea level is around 15 psi.
History of aviation standards
When we talk about aviation standards, we are talking about military hardware standards.
The commercial aviation industry has its roots in the technology developed during WWII, so much of the safety measurements and terminology used was first defined by the US and British military.
Of course the history of aviation is a much bigger story than that.
If you want to take a really good look at it we'd recommend watching this great video about it here:
Types of aircraft fasteners in use
Below we have listed a quick list and summary of the core types of fasteners used in the commercial aviation sector.
This list is not exhaustive, but it will give you an overview of what they are and how they differ, compared to their commercial counterparts.
Bolts
All aircraft employ bolts where extra strength is needed.
The difference between an aerospace quality bolt and a commercial one is in the quality and cost of the materials.
Aircraft standard bolts are made with alloy steel, stainless or corrosion resistant steel, aluminium alloys and titanium.
These allow the bolts to be both lighter and stronger than their commercial counterparts. They typically have a tensile strength of around 160,000 psi.
Nuts
The nuts found on aircraft are distinctive in two major ways.
Firstly they are all constructed from the same materials listed above.
Secondly, because of the vibration caused by flying and the extreme pressures they can be placed under, all aerospace quality nuts have some form of locking device to keep them in place.
This are commonly known as castle nuts, lock-washers, safety wire and fibre inserts.
Washers
Pretty simply, washers are used normally as you would expect, however like the nuts and bolts listed above they are constructed from stronger more lightweight materials.
Fastener Covers
These are widely used in the industry to cover the nuts, bolts and washers listed above.
Manufacturers employ a wide range of specialist materials as they need to be resistant to the many environmental factors within our atmosphere.
Such materials include Cadium, Zinc, Nickle, Silver, Phosphate and Black Oxide.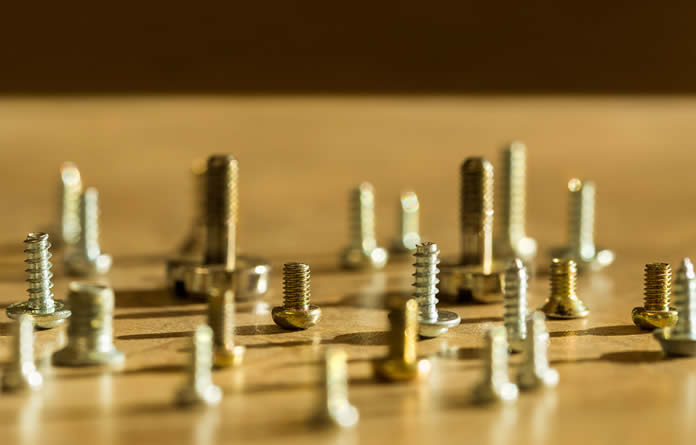 Materials used in aircraft fasteners
As aerospace technology has evolved with faster, longer distance travelling, supersonic flight and higher altitudes all becoming the norm, so too have aerospace fasteners.
Even the tiniest amount of extra weight will have a huge impact on aircraft performance, so aerospace fastener design becomes a combination of engineering and physics with a strict adherence to the highest quality materials, design and manufacturing standards.
With that in mind we have listed the four most commonly used metals found in fasteners across the aviation industry.
Aluminium
Aluminium is a lightweight material used widely across the aerospace industry.
However, it does have certain limitations such as heat sensitivity to anything upwards of 250 degrees Fahrenheit.
Super Alloys
There are many different types of superalloys, all them very good at dealing with different types of extreme stress.
For this reason they are found all over aircraft, particularly in places where extreme temperatures are an issue.
Some are capable of withstanding temperature extremes from -420 to 1200 degrees Fahrenheit whilst still maintaining a tensile strength of 220,000 psi.
Titanium
Sometimes used in place of aluminium for its superior properties, titanium is an incredibly strong lightweight material with similarities to alloys and steel in terms of strength.
It is more resistant than steel however with a temperature spread of -350 to +800 degrees F.
Steel
Although incredibly strong steel also tends to be very heavy, making it potentially problematic.
As a material it can also be susceptible to heat damage unless dealt with properly.
Mostly this involves a specialist treatment that not only makes them stronger but more resistant to corrosion too.
Steel is widely found in screws, bolts and aerospace fastener covers.
Summary
As you can see, the amount of technical expertise and consideration that goes into designing and manufacturing aircraft fasteners is much more detailed and considered than commercial fasteners.
As aerospace fastener manufacturers ourselves, we have a great deal of experience in creating new, bespoke, historic and vintage fasteners.
If you would like to discuss your own aircraft fastener requirements with us in more detail, please do not hesitate to ask.
——————————-
If you would like to find out more about some of the specialist services we offer across these sectors, including aviation, defence, oil & gas and space exploration, call us today on +44 (0)208 504 8833 or send us a direct message.
And hey, if you found this blog useful or informative in any way we would really appreciate it if you returned the favour and shared it on some of your social networks.