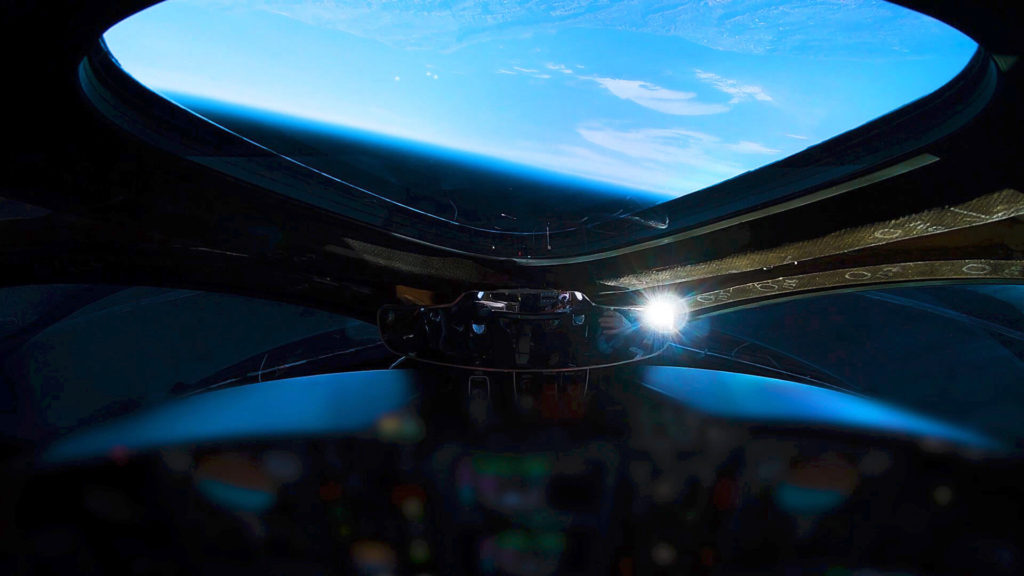 JP Aero was established in 1958, just before the boom in European package holidays changed aviation forever.
We now stand on the cusp of another historical moment in aerospace, with the very first space tourists experiencing the thrill of zero gravity travel.
But how long will it be until space tourism becomes available to the masses? Will it ever be affordable, or will it always remain the preserve of the super-rich?
Let's begin by looking at some statistics:
The First Tourists in Space
Virgin Galactic
Craft: VSS Unity
Owner: Richard Branson
Length: 18.3 metres
Wingspan: 8.2 metres
Pilots: 2
Passengers: 4
Launchpad: Spaceport America, New Mexico
VSS Unity was released by a twin-fuselage carrier jet dubbed VMS Eve (named after Branson's mother) to an altitude of 50,000 feet (15,240 metres).
Unity was released and soared by rocket power in an almost vertical climb through the outer fringe of Earth's atmosphere.
At the summit of its flight some 89km above the New Mexico desert, the crew experienced a few minutes of weightlessness before making a gliding descent back to Earth.
The whole flight lasted about 90 minutes
When will commercial services begin? 2022
How much will it cost? $250,000 per ticket
Blue Origin
Craft: New Shepard
Owner: Jeff Bezos
Length: 18 meters
Crew (including passengers): 5
Launchpad: West Texas
Amazon founder Jeff Bezos and his crew took off from Launch Site One, West Texas in their sub-orbital rocket ship where the capsule separated before climbing to 100km (62 miles) above Earth. This is known as the Karman Line and is where space officially begins.
As the rocket ship descended back to Earth using drag brakes to bring it safely down, Jeff Bezos and his crew safely parachuted back down in the capsule.
Blue Origin uses advanced science with a fully automated two-part rocket system that requires no pilots.
The launcher houses the rocket engine and propellant and separates after launch, flying back by itself to return to the launch pad.
The top of the craft – the crew capsule – safely lands using parachutes.
(The top of the craft is equipped with a crew ejection system for added safety.)
Did they really get all the way to 'space'?
US institutes like the USAF define space at 80km (50 miles) above sea level.
The Federation Aeronautique Internationale (FAI) defines it as 100km (62 miles) above sea level.
The Karman line is defined at almost 100km as well.
NASA mission control defines the beginning of space at 122km (76 miles).
There is actually some debate about where space begins.
Who went the highest?
Virgin Galactic: 55 miles
Blue Origin: 62 miles
International Space Station: 248 miles
Impact on the Economy
$350bn = current value of the space industry
$2.7tn = the total value of the space industry by 2040
£400bn = predicted value of UK Space Industry by 2030
$30bn a year = Estimated revenue to be generated by the 1500 Satellites to be deployed by Elon Musk to blanket the globe in internet services
About us
JP Aero supplies a wide range of industrial and aerospace fasteners for the space industry. Whether standard, metric or custom design we are leading UK experts.
AS9120 REV A & ISO9001:2008 approved and SC21 compliant. When it comes to space industry fasteners, we are the team to contact.
Image Credit: NASA